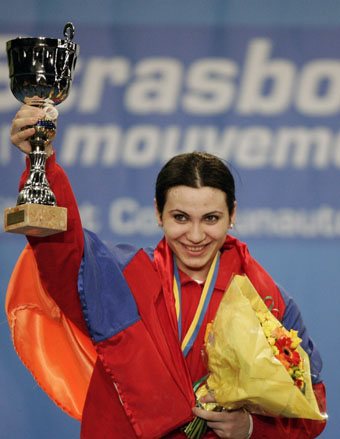 Hripsime Khurshudyan (Reuters)

Above (left to right): Hripsime Khurshudyan, Meline Daluzyan, Nazik Avdalyan, Gevorg Davtyan (Photolure, ArmeniaNow and A1+)

Team No 1 in Europe

After great success of Armenian chess players wining Chess Olympiad, Turin (Italy) 2006, today is another occasion for celebrations - Armenian weightlifters displayed masterclass in European Weightlifting Championship, Strasbourg (France), crowned Team No 1 in Europe:

10 gold and 8 silver and bronze medals
It was amazing to witness the splendid performance of Armenian women wightlifters along with traditionally strong men team.
Well done, guys, congrats!

P.S. I wish one day we'll see the revival of Armenian football!